Welcome to my bite size. One of 12 blogs in a new series looking at leadership characteristics.
I want in this blog to focus on the theme of LOVE.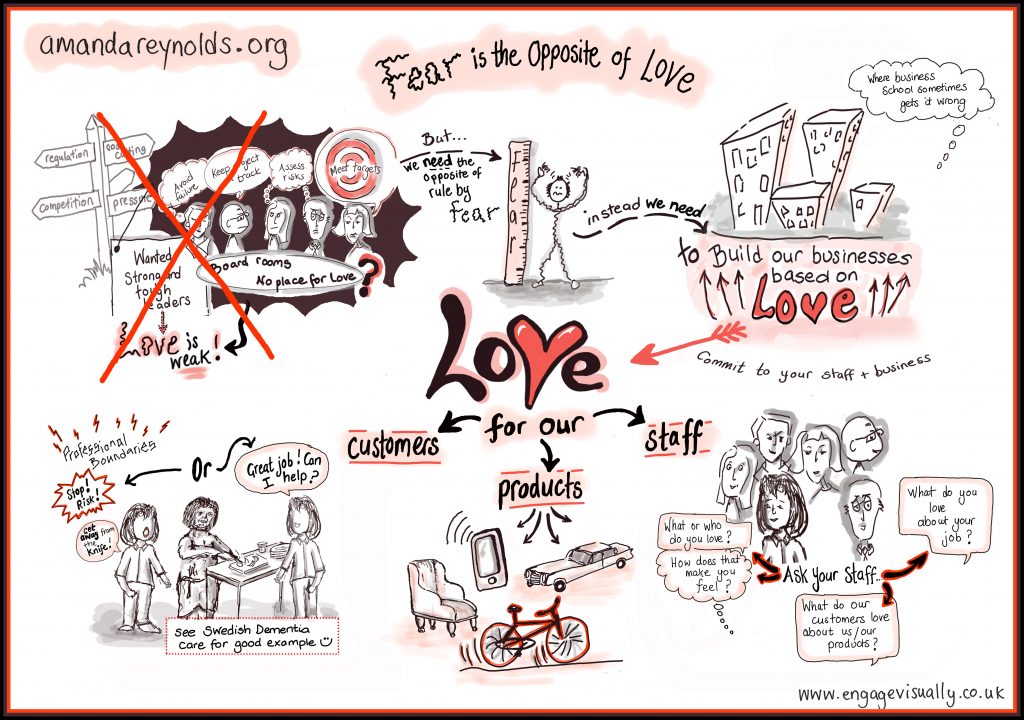 I'm sure that you didn't learn Love in Business School and we never talk love in the boardroom. But, I think we need LOVE in business as we need to love our products, our customers and to love our staff. If you are in a business or a team you don't love I think it shows. If we look around at the businesses who are successful, especially the great entrepreneurs. We see that they love their products and they want to share that love with the world. They love their customers and they get a huge sense of satisfaction with the customer's pleasure and positive experience. This sort of business leadership is rare.
Deloittes 2015 HR survey suggested culture, employee engagement and retention is now the most pressing challenge for business. http://d2mtr37y39tpbu.cloudfront.net/wp-content/uploads/2015/02/DUP_GlobalHumanCapitalTrends2015.pdf
So, throw LOVE into your next team meeting with a couple of questions.:
Tell me about the risks and challenges we currently face?
What or who do you each love and how does that make you feel?
Think about our business and tell me who or what do you love about this place?
Think about our products and would our customers say they love them and why?
I tell you, the reactions will astound you, we are desperate to love, we look for love and we are brought alive by love. The opposite of fear is love and the ancient Greeks had 30 words to describe love.
If you remember the movie Jerry Maguire you will remember the character played by Tom Cruise. Jerry loved work with a passion, he loved his business that's why he wrote that mission statement, that is ultimately why he got sacked. No one else could get it, engage with it or pull down the façade of business and professionalism they had created. So, they thought Jerry was crazy. Jerry shared the love he had for his only player:
"I am out here for you. You don't know what it's like to be ME out here for YOU."
But, for most of the movie Jerry never brought that out in the open into his leading or the way he led. He talked under pressure, in a wash room and angry about never fully telling it. Are you that leader? The one who loves? The one who wells up when a customer tells you how a product disappointed them or how brilliant it was? The one who loves but can't share it?
If we focus on how we can experience and grow love in an organisation rather than leading by fear and control how would that change us and those we work with? I think we need to imagine our customers as our family and friends. What would our business be like if we loved our customers and our staff like we love our friends, our family or ours sports team? Making it good enough for your mum, sticking with them, going the extra mile, getting it right for them and staying with it.
Unfortunately we are too familiar with leaders who are self-serving, egotistical or narcissistic. We cannot change these corporate issues overnight but we need to think about a different approach.
Try a poster on your wall: if this business were loving its customers what would it be doing?
Remember this is a journey, a mind set shift and you can't do this overnight. Get a coach yourself and a facilitator for your team to discuss this and start to think about having these conversations with staff.
Let's finish with The Velveteen Rabbit :
"Real isn't how you are made,' said the Skin Horse. 'It's a thing that happens to you. When a child loves you for a long, long time, not just to play with, but REALLY loves you, then you become Real.'
'Does it hurt?' asked the Rabbit.
'Sometimes,' said the Skin Horse, for he was always truthful. 'When you are real you don't mind being hurt.'
Do contact me for executive coaching face to face or SKYPE, mentoring and leadership speaking.