Blend Associates Limited seeks to practise its values as it works with its clients and in how we run our business. We want to BE the DIFFERENCE by making regular donations to the charities who are on the front line of helping those on need. This is how we show our KINDNESS by seeking to raise others up as we rise ourselves.
These are the charities we are working with this year:
 FareShare

Website: https://fareshare.org.uk/
Instagram: @fareshareuk
FareShare are a national charity who are trying to combat food poverty and food waste. They are doing this by redistributing unwanted and surplus food to around 11,000 charities and communities who then deliver the food to people in need. FareShare have 22 hubs located around the UK and are seeking to expand their warehouse spaces, owing to a growing demand since the covid-19 pandemic began, which is why they need more support now than ever.
Since the covid-19 pandemic crisis began, FareShare have seen the demand for their service triple, with 850 new charities signing up to their service between March and May.
Blend donated the equivalent of 2,000 meals to sponsor FareShare in the vital work they are doing and believe that this charity is striving to make the world a better place.
St George's Society of New York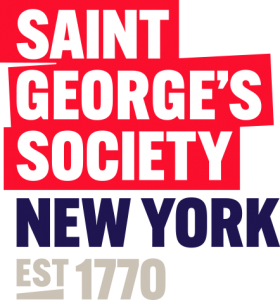 Website: https://www.stgeorgessociety.org/
Instagram: @sgs_ny
St George's Society of New York (SGSNY), which is 250 years old, is based in New York, USA and their aim is aid disadvantaged people within the British and Commonwealth community in New York and runs three core programmes:
The Beneficiary Program provides financial support for elderly people in the community as homelessness in the elderly is on the rise in the USA as housing costs increase.
The Scholarship Program provides financial support to students who are academically able but need financial and mentor support to complete their degrees.
The Family Support Fund provides financial aid to families who have travelled to New York to seek paediatric cancer treatment. Along with financial aid, SGSNY provide support by greeting families at the airport and assisting them on their first visits to the hospital.  
The charity continues to adjust its work since the covid-19 pandemic hit New York, SGSNY set up the Phone Pal initiative which paired up volunteer callers with elderly beneficiaries who were isolated.
Blend has a partnership with SGSNY as Amanda our Founder, coaches the charity Executive Director and is a mentor for an undergraduate, Sheavonnie who was part of the Scholarship Programme. Sheavonnie starts at Marshall University in August 2020 and Amanda will continue to offer mentoring support as she moves on in her education.