Nancy Kline said:
"The Brilliant executive coach is the one who brings out the brilliance of the client."
Do you want to try brilliant?
Most leaders consider some of these before they engage a coach; Do I like them? Can I open up to them? Also, do I get a good sense of chemistry around them?
You might also ponder if you are personally motivated to change? As this will be needed if coaching is to work for you. These are good things to consider but we do not suggest you should start there.
Did you know that the professional title of coach is not protected in any way? So how do you make sure you get a skilled and suitably qualified coach?
Our coaching faculty works to the highest standards and all are screened to ensure they comply with the following:
We all hold a coaching qualification

We are members of a coaching and mentoring professional body

We work to a Code of Ethics and Competence Framework

We employ our own coach supervisors 

& we

each have regular professional coach supervision with a coach qualified in supervision

We are experienced in coaching individuals and teams  

We offer MBTI, TKI and PROPHET team profile certified practitioner

We have 1,000s of hours of coaching client experience

We have a business model that has been tested by competitive tender on quality and price

You can access any of the coaches on our faculty or we can do the matching for you/your organisation

We all are skilled in MS teams and Zoom coaching

We have provided coaching through Covid to senior leaders so we understand your current context
Professionally qualified coaches like us work with individual leaders and teams when they have mastered the technical skills of their role but need to improve organisational performance, lead a major transformation in business or recruit and build new teams. It is also useful to offer coaching to your brightest and best new recruits who have the potential for the board room. Coaching is also helpful is support to those about to go to university or entering graduate careers. Psychometrics like the MBTi career report can really assist new leaders to develop and focus.
Coaching is effective because leaders also need to manage the "soft skills" of interpersonal relationships. Growing self-confidence, presentation skills, resilience in self and team. Leaders need to build trust, values & ethics, managing conflict, and thought diversity in their organisations. As we live with a global pandemic leaders need to manage the paradox of offering support and continuity whilst being able to adapt and reinvent business at pace.
We know it works as our clients give us that feedback
And we know our coaching works as this is a sample of the feedback we received from our coaching clients on what coaching offers them:

And when we asked leaders about how coaching helped their resilience they said: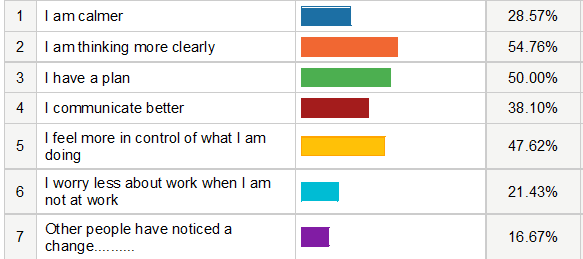 So, now you have an idea of what to look for in an Executive Coach why not give us a call or email? 
We look forward to connecting with you.